Thanks for your interest in selling at the Downtown Torrance Antique Street Faire, held on the fourth Sunday of every month.​​
Tree-lined streets and a laid-back vibe make our faire a favorite for both vendors and customers, who find it a refreshing alternative to big arena venues. The front of your space faces expansive city sidewalks, where shoppers stroll easily. Most of our downtown restaurants stay open for the event, which keeps shoppers fueled and happy. Entertainment and themed events round out the fun. It's not your average set it-up, sweat-it-out, break-it-down swap: our vendors say they actually have fun, and they come back month after month.
Vendors with antiques, collectibles, arts & crafts, and/or quality used merchandise are welcome to join us. Sellers with new merchandise will be considered, depending on the product line.

Tickets for the following month are available anytime during the show at Street Faire Antiques, a large antiques and collectibles store that also serves as the Street Faire's office. We're open daily from 11 to 7. To guarantee the same space for the following month, you must purchase your ticket in advance. Space is sold on first-come, first-served basis. However, the vendor currently in the space has first priority to purchase it for the next month.​
Set-up is from 5:30 AM to 7:00 AM. Our faire is in a mixed use neighborhood, so it's important not to arrive earlier as our neighbors are sleeping. Please plan to arrive before 7 AM, though. If you're not in your space by then, it may be resold, and you won't receive a refund.
The Street Faire opens to the public from 8 AM to 3 PM. We close the streets off at 7:30 AM and no vehicles, including vendors, may move after 7:30 AM or before 3 PM. Sellers can exit no earlier than 3 PM.​
Rain or shine, the Street Faire goes on. Regardless of weather conditions, no refunds are given.
Parallel park your vehicle behind your space, where it must be aligned for a proper fire lane. Vehicles are not allowed to remain in actual parking spaces, since that's where our canopies and tables are set up. If you have more than one vehicle, you may unload your merchandise then move your vehicle to the free parking structure or lot, both of which are within easy walking distance of all spaces.​
Please not that merchandise can't be displayed or placed against any of the downtown buildings or city property like bike racks, trees, planters, or light poles. Merchandise must be displayed on tables with tablecloths, with the exception of clothing, which should be hung on garment racks, furniture, or items normally displayed standing. 6 foot tables are available to rent for $5 per day but must be reserved in advance. If you have a canopy, use it. They help define your space and make you and your customers more comfortable.​
All regular vendors are required by law to have a California Seller's Permit for this location.​
Watch this video to see what our vendors and others are saying about the Torrance Antique Street Faire!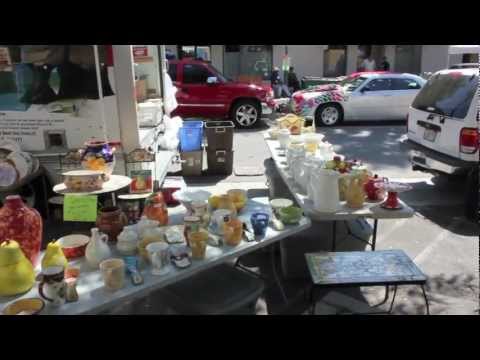 Seller Spaces
Regular space – $85
Wells Fargo parking lot – $75
Small space – $55
Commercial vendors – $125
Pay online with your credit card or Paypal account by clicking the "Vendor Application" button below.
-or-

Pay by phone with a credit card by calling (310) 328-6107.
-or-
Print our Vendor Application and mail it with your check to Street Faire Antiques, 1317 Sartori Ave., Torrance CA 90501.
You can also come in to our store in person and complete your paperwork there.
Please fill out the Vendor Application
(below).