2022 Dates: January 23 • February 27 • March 27 • April 24 • May 22 • June 26• July 24 • August 28 • September 25 • October 23 • November 27 • December 11 •

Back in the early 1900's, Downtown Torrance was the hub of the South Bay.  Shoppers from Redondo Beach, Manhattan Beach, Hermosa,  El Segundo, and even Los Angeles could hop on the Red Car Line to shop at Levy Department Store or Woolworth's.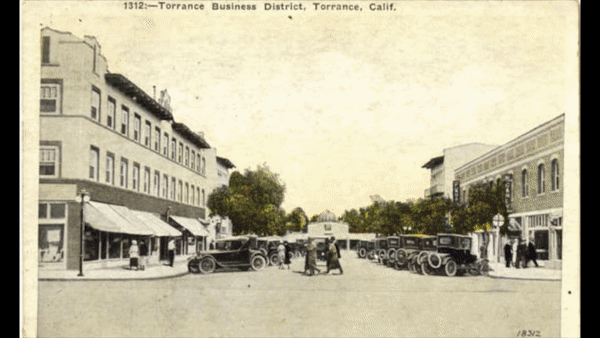 In 1961, the Del Amo Mall opened on Hawthorne Boulevard. The earliest enclosed malls had appeared in the midwestern U.S. only a half dozen years earlier, and customers saw this new shopping experience as modern, convenient, and luxurious. Many of the shops and entertainments that had made the area so vital moved on to occupy space at Del Amo and later at the other South Bay malls that followed. That was the start of a downturn for Downtown that lasted nearly twenty years, as both business and the neighborhood slid into decline.
Luckily for those of us who call Downtown home, Torrance wasn't content to be known as a mall city. In 1978 the Downtown Redevelopment Project was initiated,  and by the 1990's the area looked great. Unfortunately, no one knew it.  A generation of Torrance natives had fallen out of the habit of visiting Downtown, never having experienced its exciting heyday. How could attention be brought to the new Old Torrance?
Enter the Street Faire! The Downtown Torrance Association recruited Julie Randall and Miguel Salazar, the successful producers of the Dominguez Hills Antique Flea Market, to create a monthly event that would show off  the tree-lined streets and newly restored buildings.
The Torrance Antique Street Faire debuted in October 1998 and has grown from 25 to over 200 vendors; it attracts thousands of people to Downtown each month. Shoppers and vendors alike love the laid-back alternative to big, hot arena swap meets. That's why the Torrance Antique Street Faire has consistently been a favorite in Daily Breeze Reader's Choice polls, and why founders Julie and Miguel were awarded the Torrance Advantage Award, a distinction given annually to a "Quality of Life Community Investor," in 2014.